With 1500bhp, sequential gearing, a race car chassis and show-stopping looks, this wild, road-legal, 4-rotor Mazda RX-7 really does do it all.  
The modified car world is a massively varied place – it's one of the reasons we all love it, and for every type of car out there, there are a heap of different routes people take when it comes to upgrades.
You could be building a road car, a race car, a show car, or concentrating your efforts and money on a certain area of the car. That could be the engine, cosmetics, handling, or whatever. But what if you just want it to be, well, everything? In all honesty, most cars that try to be good at everything often end up a bit of a disaster. It's like they don't know what they want to be and end up not that great in any aspect. But there's exceptions to every rule and this insane 4 rotor Mazda RX-7 is one of them.
So, what is this 4 Rotor Mazda RX-7 all about? Well, it's everything. It really is. It looks like a show car. Yet it's used regularly both on the road and the track, and it's not just used, but it's used HARD.
When we say it's everything, it is from a spec point of view. I mean, what's the ultimate rotary engine? A quad rotor Mazda RX-7 of course. Yep, it's got that. What's the wildest type of rotary engine porting? Peripheral ports. Yep, it's got that. Has it got a turbocharger? Hell, yes it has – a gigantic Garrett GTX55 capable of up to 2500bhp; it's even got a gold-plated compressor inlet! We could go on all day, but it really is top of the tree in every aspect.
The thing is to build the ultimate all-round monster of a car, whatever kind of car it is, is more than just spending money on the most expensive parts you can find; lots of people do this, and it usually ends up an under-performing mess. But the owner of this car, David Mazzei, knows this. This car has been under non-stop development and progress for years, and it's still being developed to this very day, but David gets some of the best people in the business, as well as some very capable friends, to make sure this car really does achieve his goals: a road-going car that's not only show quality, but capable of winning the Unlimited RWD class at Time Attack events.
What is a 4 Rotor Mazda RX-7?
As we're sure you know, Mazda RX-7s come with twin-rotor engines as standard. David's previous Mazda RX-7 had a triple rotor 20B engine, which was running a huge 1200bhp+ capable turbo, but for this car he went a step further and chose a quad rotor, most commonly known as a 26B.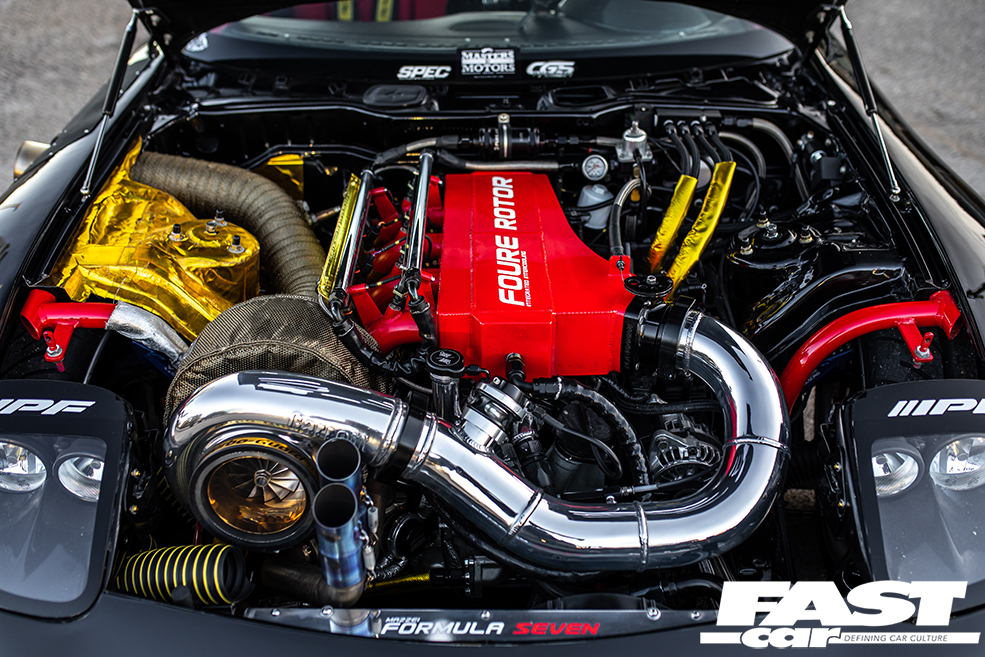 While most people, including David, say that a big reason for wanting to go for a 4 rotor Mazda RX-7 is the incredible noise, a scream reminiscent of the engines in the Formula 1 V10 era, there's a lot more reasons than that. Twice the rotors give twice the capacity and twice the airflow, which means, if all else was equal, twice the performance right across the rev range. And, unlike adding significant extra capacity on most piston engines, this doesn't really lower the safe rev limit on rotaries – this thing happily revs to 9500rpm all day long.
While rotary engines flow well as standard, this quad rotor has been treated to the most extreme porting possible, peripheral ports. Combined with the huge 98mm inducer GTX55 Gen2 turbo and many other tricks, this engine is able to create massive power levels at amazingly low boost. David's 4 rotor Mazda RX-7 makes over 950bhp at the wheels – which is well over 1000bhp at the flywheel at just 20psi boost. In fact, it was likely well over 1000 at the wheels in reality, but the wheels were spinning on the dyno, making it read lower than the true numbers.
While it hasn't been dyno tested beyond 20psi, it's likely capable of 1500bhp or more with the boost cranked up to 30psi+. While the big boost numbers are always the things to show off about, the fact the car makes around 800bhp at the wheels at just 1bar (14.5psi) boost is even more incredible. Almost all of us have road cars that run that much boost or more on normal pump fuel, but do they make 800 screaming horses? No.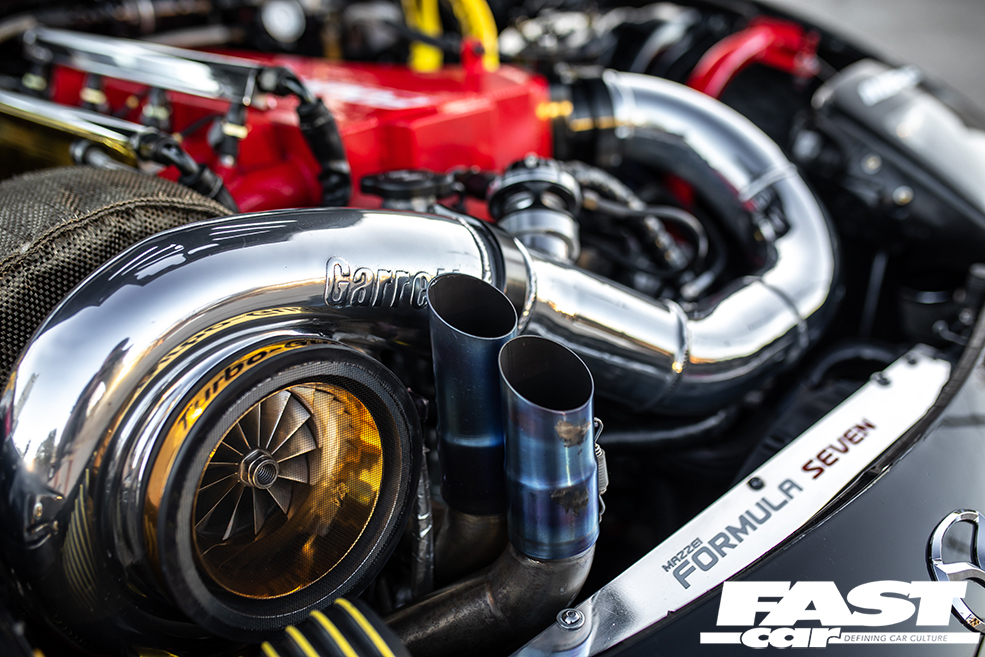 Probably most surprising to anyone who has noticed the turbo is the fact this car is super responsive and has a very wide powerband. This car makes over 500bhp for well over 4000rpm of its rev range. This is far more than almost all engines of a similar level of power!
Was this incredible engine simply a case of ordering a 4 rotor engine and a gigantic turbo? Hell no. In fact, the issues he had with it originally are a great example of why getting the best out of a tuned car just isn't as simple as that. And it's also a reason why he's so thankful to the specialists he's got involved in this project.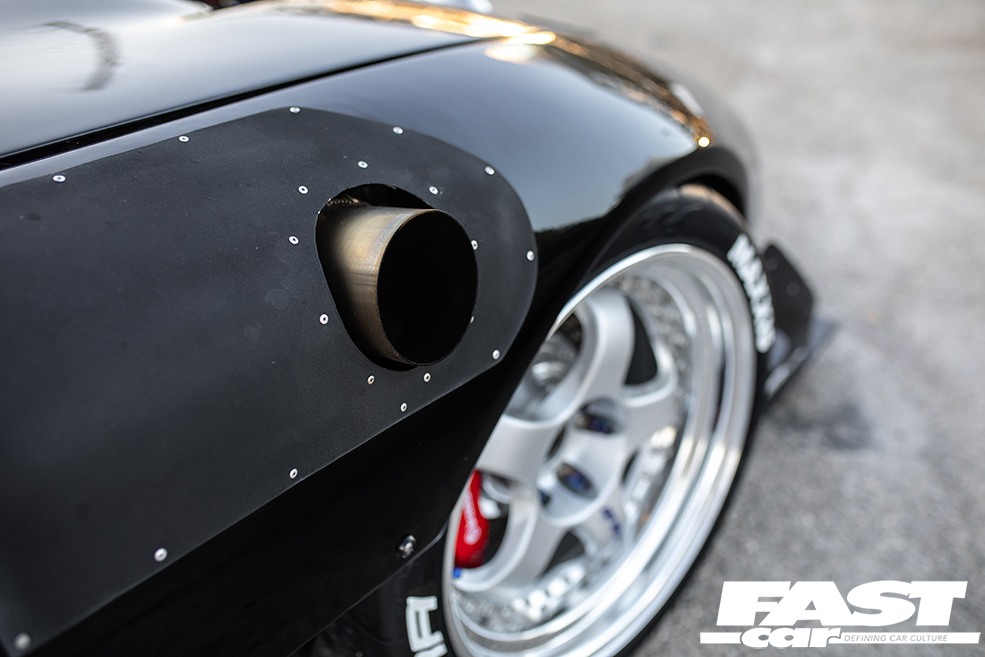 The original quad rotor engine set-up he had built and imported for this car was a bit of a disaster. The external oil pump set-up was incorrect, which starved the engine of oil. The peripheral ports weren't sealed correctly, so had internal coolant leaks. The manifold design was terrible, the rotors had balance and compression problems and his desired engine note, the high pitched wail of the Mazda 787B Le Mans car, wasn't there either.
Thankfully, rather than giving up or settling for second best, David was determined to keep his dream alive and get things done properly. Morgan Performance Fabrication created him a new turbo manifold closely based on the Mazda 787B Le Mans car design, which not only eliminated any restriction and prevented boost creep but gave him the awesome noise he wanted too. Chips Motorsports and Eccentric Motorsports combined their skills to create an engine which was both powerful and reliable. And to top it off, rotary tuning legend Abel Ibarra took care of the dyno tuning, making this engine powerful, reliable, awesome sounding, and kicking out some insane flames from the front wing-exit exhaust!
The above is literally the tip of the iceberg when it comes to this engine, and a look at the spec list below confirms that. But the engine set-up is full of tricks, including a NASCAR-style shaft drive fuel pump mounted at the rear of the car, a large cooler for the fuel mounted in the rear bumper, and the small matter of eight huge injectors, which can flow an insane 12.5ltr per minute when flat out!
While we could talk about the engine all day, that wouldn't be doing the rest of this car justice. The bodywork consists of a mix of RE Amemiya and Feed parts, as well as the legendary Scoot vented bonnet. It has as much function as it does form, with functional downforce creating parts, ducting and vents to get the air to and from all the vital parts, and many components that are significantly lighter than the standard ones too.
Work of art
The wheels and tyres are another great function and form thing. The wheels are WORK Meister S1s; top quality JDM rims that are right at the top of the tree in the show car world. But they are also genuine motorsport wheels that were commonly used in Japanese GT Racing in the 1990s and '00s. For tyres, the car runs Maxxis VR1 road-legal track tyres for the street but for track use, it runs full racing slicks for maximum traction.
The suspension set-up is all fully adjustable and rose jointed and uses top quality Fortune Auto coil overs. But the secret weapon behind getting this car to handle and corner as it should is the help and advice of another of David's friends, professional racing driver Bryan Leonard. As much as we like to believe we're great drivers, anyone who's been out on track with a true professional racing driver knows they're in a different league. Bryan's experience and understanding of the way the car behaves has been a massive help in setting up the car.
As anyone who's built a big project knows, while skilled professionals are vital for some things, enthusiastic and helpful friends and family can make the difference between an unfinished project and a show stopper. Grant Snyder is a long time friend and fellow rotor-head who's spent countless hours helping set up and troubleshoot this 4 rotor Mazda RX-7. David's girlfriend massively helps with this car too. And we don't mean car polishing, spanner passing type of help, but legit 'oily hands fixing broken mechanical parts' type of help!
This car's clearly a flame throwing, ear bleeding, tyre smoking beast, but nobody can explain it better than the owner and driver; over to David…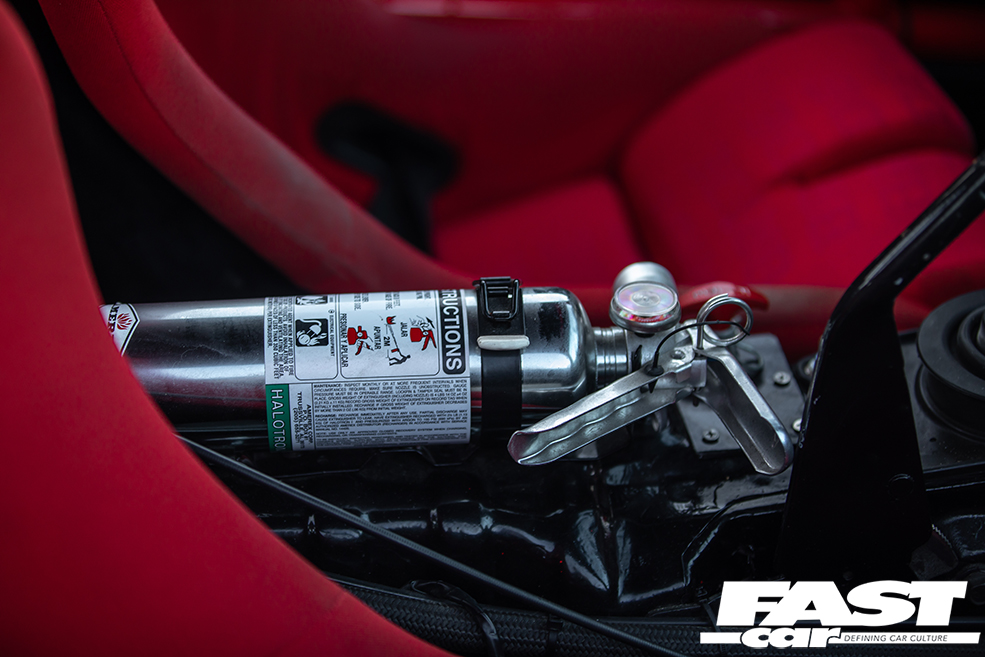 "It's all about the feeling and the experience. The sound of the engine you can feel right through your body and through every part of the car; it's intense. The noise from the turbo spooling, the blue flames from the screamer pipes you can see at night at full boost. The massive backfires and flames from the side exit exhaust that can be so strong that they move the wing mirror. And the performance – well it's not about using it all, it's about using as much as you can before you become too afraid to keep your foot down!"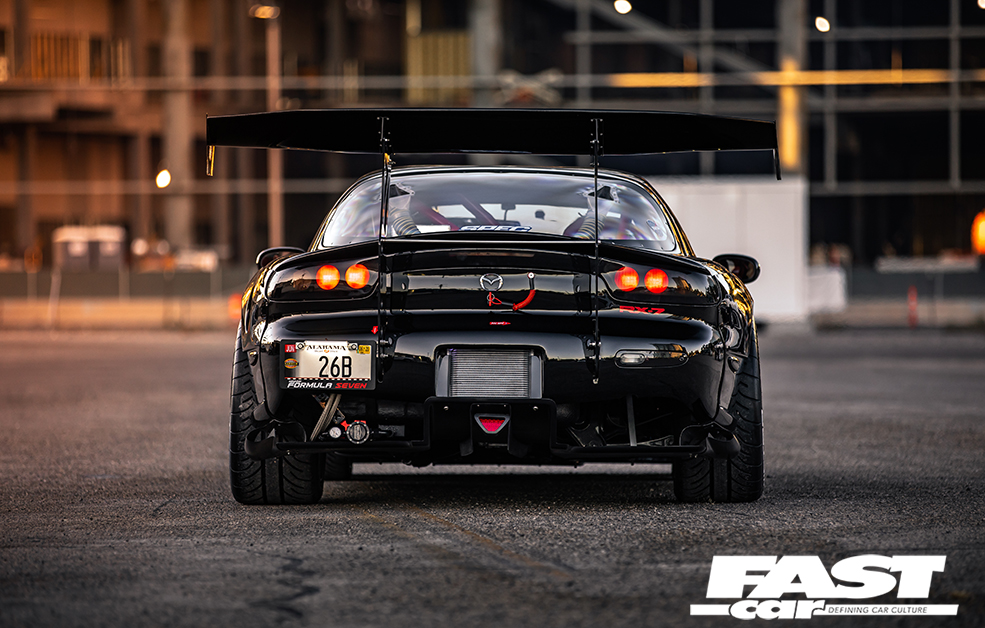 Is this car finished? Of course not. Until David's goal of winning Unlimited RWD in Time Attack is achieved then this is the one big thing to aim for. But even at this current spec it's already gone through many transmission changes, and the car has a lot more improvements already in progress as you read this. With David's great attitude and determination, and his great collection of friends and sponsors helping him along the way, this car will just keep getting better and better.
Tech Spec: 4 Rotor Mazda RX-7
Tuning
Quad rotor peripheral port engine built by Eccentric Motorsports, Chips Motorsports peripheral port coolant modification and O-ringed inserts, lightened/balanced/clearanced rotating assembly, Plazmaman peripheral port intake clamps with Viton O-rings, custom aluminium Garrett core water-to-air intercooled intake manifold, Plazmaman 100mm throttle body with progressive throttle cam, rear hatch mounted intercooler heat exchanger, Garrett Gen2 GTX5533R 98mm turbocharger, "T51R compressor inlet mod" with gold plated inlet, twin Turbosmart 50mm Pro-Lite wastegates.
Morgan Performance Fabrication equal length exhaust manifold built to 787B specs, MpFab Titanium wastegate tubes & stainless side exit exhaust, DEI gold reflective thermal barrier tape, turbine heat blanket, 3port Mac valve boost solenoid, 4x Bosch 2100cc injectors and 4x Bosch 1000cc injectors, billet fuel rails, Weldon 10AN fuel pressure regulator, modified fuel tank, Weldon remote mounted mechanical fuel pump, Waterman NASCAR cable fuel pump drive, AEM water injection, flex fuel sensor, in-tank primer pump, Peterson R4 external high pressure oil pump, billet baffled sump, Moroso oil accumulator, Haltech Elite 2500 ECU, Guldstand Pro EFI wiring loom.
AEM Smart Coil ignition system, 4 channel exhaust gas temperature unit, AEM wideband, AEM 12 position adjustable boost dial, 200Amp alternator with adjustable voltage regulator, XS Power battery, 16 volt charging system, CBR Racing custom radiator, SPAL 11in extreme CFM fans, Mezziere electric water pump, rotor housing spark plug cooling system for rear rotors, dual 30-row oil coolers, single 15-row bumper mounted oil cooler, 30-row rear mounted fuel cooler, rear bumper mounted/diffuser exit, 1 gallon intercooler ice tank and pump; Quaife QBE69G 6-speed sequential gearbox, Carbonetic 1.5 Way 32-pack carbon clutched LSD, Spec triple plate clutch, Driveshaft Shop axles, differential case girdle and bracing, 19-row differential and gearbox cooler with Tilton pump
Chassis
Fortune Auto 510 Series adjustable coilovers with 12kg/14kg springs, adjustable front camber arms, adjustable tie rods, manual steering race, poly rack bushes, uprated front ARB with adjustable links, rose jointed rear trailing arms, rose jointed rear toe arms
Brakes
Brembo Gran Turismo GT1 (Ferrari F50) 4 pot front brake system, drilled discs front and rear with stainless PTFE brake lines, Hawk DTC60/30 racing pads, spring-loaded 2.5in brake ducting, stainless steel front brake ducted backing plates, Chase Bays master cylinder and brake bias adjustment system
Wheels and Tyres
9.5x18in (front) and 11.5x18in (rear) WORK Meister S1 wheels, 255/35×18 (front) and 295/40×18 (rear) Maxxis VR1 road tyres, and 250/640×18 (front) and 300/680×18 Yokohama medium compound full race slick tyres
Exterior
Feed front and rear arches, modified Scoot vented bonnet, RE-Amemiya sleek headlights, adjustable chassis mount rear wing, Mazzei Formula front splitter, RE-Amemiya rear diffuser, Feed side skirts, Mazda 99 spec front bumper, polycarbonate rear screen, Aerocatch bonnet pins, Quicklatch rear hatch pins
Interior
Racepak/Haltech digital dash, Defi rev counter, boost pressure, and oil pressure gauges, carbon switch panels, battery kill switch, 6 point roll cage by Kirk Racing, 10lb AFFF Alcohol fire-suppression system, Halon secondary extinguisher, Sabelt 6-point racing harnesses, BRIDE bucket seats, SFI rollcage padding